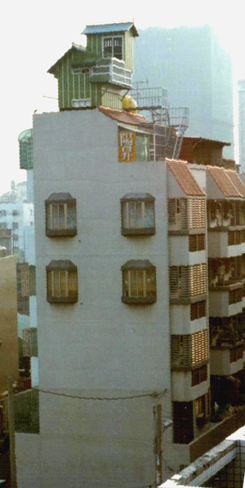 SunRise Loft of Taiwan, a typical roof top loft, racing loft on top of the breeding loft

A roof top landing board design for easy landing and fast trapping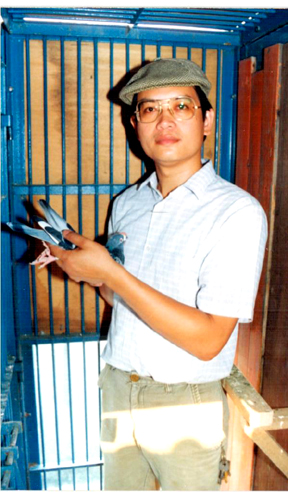 Mr. Kao Ping Wu with probably the most famous pigeon in Taiwan's racing pigeon history - The Super Bird. Sired 6 first overall Ace-pigeons in 3 to 5 races series aginast 10,000+ birds each race, today 6th generation down from this cock are winning races in major competitions. "The Super" was on the cover of "Taiwan Homing Pigeons" Magazine #39, Sire was bred by the Janseen brother and a Gr. Son of the famous "Bange `51", Dam was bred by Mr. Ed Jankowski and Gerry Eurlings of Wis. U.S.A. she is a Gr. Dau of "Juliana" bred from a Gr. Son mated to a Gr. Dau of the famous "88" Hartog Janssen. Foundation cock of the loft with unprecedented breeding and racing records which are not likely to be matched in the future.

                                                    |"Bange `51"
                                      |66-6329843 --|51-6617447
                                      |             |64-6639705
                                      |             
"The Super"         |B71-6756643 BC   |             |"Bange `59"
T77-220316 BCw/f  --|Direct Janssen --|68-6690742 --|59-6481935
                    |                               |Son X Dau of "Bange `51"
                    |AU74-4484 B                    |62-6130361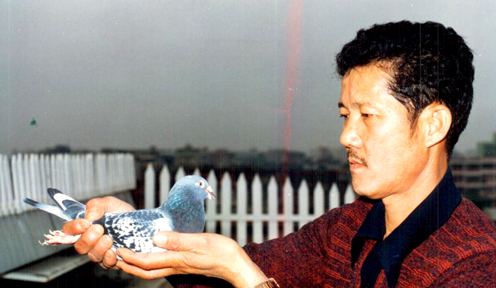 Loft Manager Mr. Huang with the Super bird, blue check with only one white flight.
Mr. Kao Ping Wu on left and Jesse (Chung Ruey) Wu on right, holding 2 First National Winner at stock. The NL93-9389741 Blue Check white flight hen bred by Mr. Wal Zoontjens of Reil Holland, she won First National Orleans Section 1C in 93 as a young bird against 8,809 birds.

[ Back to Home ]