Who is Gust Hofkens ? By: Ad Schaerlaeckens, Holland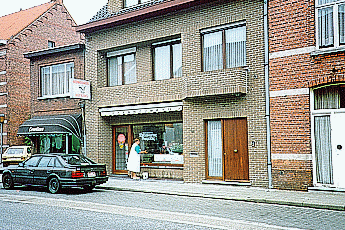 Hofkens' butcher shop at Merksplas, still in business today. Right behind it was once the world famous Hofkens loft.
Very often have I been asked this question. Not only by foreigners, but also by Dutchmen and Belgians.
Why they asked me, of all persons, is not so strange when one considers apart from my pigeon writing activities I knew Hofkens quite well as he was a personal friend.
You must know Hofkens, who was a butcher in the village of Merksplas, and live only four miles from my house. His friendship with me is not that strange. Hofkens and I live in an area which is very rich of illustrious names. For example, Janssen Bros., Van der Flaes, Klak, Boggmans, Louis Van Loon, Meulemans, and of cause Hofkens and I all live in an area with a radius of about 10 kilometers. Hofkens started his career as a short-distance champion. This was in the 50's. As races from Quivrain, 135 KMs, he was really unbeatable. In those days he was too strong for competitors.
Later, he turned over to middle-distance and his results were just as breathtaking as before.
He was still pretty unknown. The reason was, he did not want any publicity and ... He did not have auctions.
Especially in Belgium, it is important to have an auction regularly. The papers can only survive because of the profits made in auctions and if they smell one they begin to write about such a fancier.
Hofkens was then, now we talk about the 60's, pretty unknown. Only in his own area everybody knew he was by far the best.
Outside this area only the very clever people became aware of his greatness. For example, Jan Grondelaars. He lives about 100KMs from Hofkens, but this clever Mr. Grondelaars went there to buy birds and ... this made him world famous.
Especially a pigeon called Eenoog (Which means One-eye), which Grondelaars bought from Hofkens. He'd give many super-racers at his new owner's place.
In the early 70's Hofkens began to enter birds for the great provincials. Also in Union Antwerpen. He only raced with 3 birds or even less but were always fully pooled and week after week, it was the Merksplas butcher who took all the money. Now his fame was spread rapidly. This was not because his birds became better but ... he won all the money which was to be won!
Actually, I think he had more good birds in the 60's, so earlier. When he got some name he did not have that many good birds but those which he had were really outstanding.
So in spite of the fact that he did not breed as many good birds as before his fame began to spread like wild fire all over the country. This because of the great amounts of money he won with his fully pooled birds but also because other fanciers had terrific results with Hofkens blood. Then Mr. Hofkens died and his pigeons were to be auctioned.
Some weeks before the auction some of the most important birds were stolen despite there were alarms all around the loft. The auctioneer became so scared that the loft were guarded day and night by police. One week before the auction everybody suddenly wanted hofkens' birds. For a time they were even more valuable than the Janssen birds. Especially Germans came with big Mercedes and searched the environment for original Hofkens. When they knew about a farmer or just someone with Hofkens birds in the loft, they were prepared to spend very much money on such birds.
There was one condition, the bird should wear a Hofkens' ring. J v d Sterren won in Belgium a first National Montauban and within a few years everybody had or wanted Hofkens birds. Those who had them wanted to sell and used the media to make the name of Hofkens even greater. In very many advertisements in the pigeon magazines, Hofkens birds were offered, Even by fanciers who had only a great grand child of a direct Hofkens. Hofkens was in! Hofkens meant money! And ... Hofkens himself was dead!
Hofkens-Strain
Very often have I been asked what kind of pigeons Hofkens had. Well, for those who claim to have Hofkens I have something to tell which might be discouraging. Hofkens himself did not even have his own strain or family as American would say. Many people now claim to have Hofkens family but ... Hofkens himself? He got his best birds everywhere.
It is the same like Wegge. Wegge lived around 1900's. He became very famous and even now some American claim to have pure Wegge birds. But, Even Wegge himself didn't even have his own family, nor did he ever want to form his own strain. Wegge bought pigeons everywhere as he believed in crossbreeding. I have in my home the auction list of Wegge from 1903. One third of his birds he had bought himself.
Well, the same happened to Hofkens. Others claim to have Hofken-strain and Hofkens himself did not even have a strain. He started with birds from Fons Janssen, a brother of of Janssen Bros. from Arendonk. In the past, it was this Fons Janssen who had always bought the birds for his father and brothers. Fons Janssen went to Ceulemans and Scoeters and made his brothers famous all over the world. Well, this Fons Janssen, the only Janssen who married, went to live in the place of Beerse, not far from Merksplas and which which his birds Hofkens started. Later, he bought very good birds from Van Rhijn Kloek, from Paenen and from Berendrecht, from an unknown fancier in the South of Belgium (Even Hofkens himself did not know the name) and he also got good birds from a Dutch fancier from Tilburg. Mr. Van Geloven. In fact Mr. Hofkens was always seeking better birds and if he liked a bird he'd try to buy it or preferably to breed together with the owner of such a bird. If Hofkens saw a hen he liked, he'd suggest the owner to mate with a cock of his and share the babies.
A very famous Hofkens bird was the "Eenoog" (One-eye) the pigeon which was bought by Mr. Gondelaars. Everywhere is published this bird won more than 50 first prize races with one eye. The other is blind. It is a nice story indeed, but far from truth. The Eenoog won about 18 first prize races. I found out later, still very good of cause, and later on, one of the eyes was picked.
Through it must be said that Mr. Gondelaars bred many super birds from his Eenoog. Hofkens favorite bird was his Driebander, a pigeon which is world famous now. Driebander means that the bird had three (drie) strips (banden) in the wing. Many of his descendents could be recognized by the same pattern. Mr. Hofkens always said "All youngsters of my Driebander are super. If it is not in the races, then they are super breeders."
People in his area knew this was not exaggerated. Now-a-days his most famous is most probably his "Geschifte". Geschifte is one of the birds that won so much money in the early 70's. As this bird was sold for a fortune, to Gommaar Verbruggen, who sold it again. It was especially the owners youngsters of Geschifte who made this pigeon great. The reason of cause, they smell money. Hofkens birds meant you could sell pigeons. Especially when there was some blood of this Geschifte in the loft. Unfortunely, Geschifte was a poor breeder. Mr. Verbruggen, who bought it, and Mr. Raoul Verstraete, who had many youngsters of it and also Mr. Gondelaars will confirm this. Geschifte, unlike his loft mate Driebander, did not give any good youngsters, whatever others want to say or write about it.
The Geeloger was a very big pigeon, like most Hofkens birds. This was not because it was, as we say, of a family, but Mr. Hofkens liked big birds. He was one of the few. The feathers were a bit rough and hard. Quite different the Janssen type. Typical for many Hofkens pigeons was also the deep keel and the fact these birds were long.
Futher more, Hofkens birds are of the very few which can handle distances. Hofkens himself also managed to win races from 135kms but still from 800kms. A Hofkens bird is an all round bird. Not because Mr. Hofkens himself liked such birds and if possible bought them.
Gust Hofkens from Merksplas, in the 60's and 70's respected and geared everybody. Mainly because of the fantastic results of the descendents of his Driebander. The pigeon he liked best of all. Driebander died when Hofkens wanted to show it to a fellow fancier, and stumbled with the bird in his hands. Some months later Mr. Hofkens himself died. His fame was spread later, by the fanciers who claimed to have Hofkens birds and wanted to make money out of it.
When Hofkens was really unbeatable in the races, in the 60's and 70's, he was unknown, and later became famous. IT often happens like that. It is the press and the "seller" in the pigeon sport who are to be blamed.